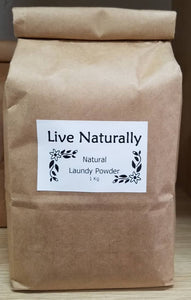 Natural Laundry Powder
$9.50

$9.50
Tax included.
---
---
Suitable for all skin types especially Delicate & Sensitive skin.
 
To use: Add 1 Tablespoon to each load (don't be tempted to add more)
 
This natural laundry powder has fabric and water softening agents so there is no need to add anything else to your laundry.
Can be used in Top & Front Loader washing machines.
 
Ingredients: Sodium Carbonate, Sodium Bicarbonate, Borax Pentahydrate, Sodium Percarbonate, Magnesium Sulphate, Natural Handmade Soap, Lavender & Lemon Essential Oils.
 
1 kg Bag.
Handmade in New Zealand.