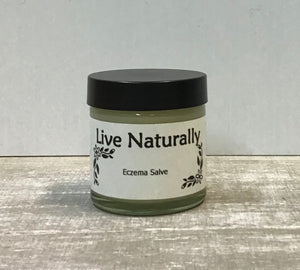 Eczema Salve
$29.90

$29.90
Tax included.
---
---
Soothing and healing salve for use in the treatment of Eczema.
 
This salve has also helped relieve itchiness and minimise scarring in cases of Chickenpox.
 
Ingredients: Organic Shea Butter, Organic Jojoba Oil, Beeswax, Calendula, Grapeseed Oil, Evening Primrose Oil and Lavender Essential Oil.
 
60 ml Jar.
 
Handmade in New Zealand.